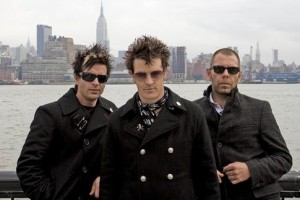 Melbourne, Australia's The Living End are currently in New York working on new material for the bands follow up to 2008's White Noise. Frontman Chris Cheney had this to say:

Some of you may care to know we have begun work on album #6 and we are off to a great start. Yeeha! After Chill Island we jumped into the studio for a week and demoed about 7 new songs. It's never been the easiest task to write on the road so we didn't know quite how the first round would turn out. We were pleasantly suprised. It's hard to describe how they sound, but we can say that we're really excited thus far. Some are very TLE sounding and some are not, but we've been pushing ourselves to keep it powerful, epic and above all else ROCKIN'! There are some definite standouts and quite possibly the most simple songs we've ever written which has been very liberating.
No release date or producer have been anounced yet, but the band is expected to enter the studio again in late March.