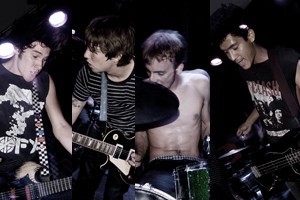 Attention fans of fast, catchy, pop-punk: The Braces are an up-and-coming band hailing from Thousand Oaks, California, who are no strangers to DIY. Their sophomore album, I'm Telling Everyone, was self-produced and partially recorded in vocalist-guitarist, Zack Sekuler's bedroom and bathroom. Sean Jain spoke with Sekuler regarding who The Braces are, their plans for 2010, and some of their influences. Their sophomore album is currently streaming at Punknews.org and can be heard here.
Who are The Braces?
We are a pop/punk band from southern California consisting of a Star Wars geek on guitar and lead vocals, a guy who dressed up like Neo on Halloween when he was 14 playing drums, a guy who used to have LAN parties at his house on Friday nights in 10th grade singing and playing bass, and a guy who can tell you more about DC post-hardcore than he can about what he ate for lunch on lead guitar. Needless to say, we are pretty cool.
Give us some background on the current line-up?
The original lineup met in high school and we didn't really know how to play our instruments, but we were playing punk rock so it didn't really matter. Our original guitarist left for the University of Hawaii on a volleyball scholarship and we played as a three-piece for a bit which left us no choice but to actually learn our instruments. Our current guitarist showed up for practice one day and now he's in the band.
For someone who has never heard your band…how would you describe your sound?
It's what pop-punk might have sounded like today if NOFX decided to show their music videos on MTV in the early 90's (gonna piss a lot of people off with this one).
What were some of the band's highlights in 2009?
Writing/producing/designing our second full-length album in the summer and then releasing it ourselves in the fall/winter. Going on tour with our friends, The Sheds, in December. Staying together.
Do you guys have anything in particular you want to accomplish for 2010?
Everything we want to accomplish is particular. Particularly playing way more shows, possibly *cough* definitely *cough* getting a label to release our record widely or distribute it so we can promote it better. It would be nice to play Warped Tour and not have to pay to see some of our favorite bands play every day. Also to write more music and eat more Chipotle.
Are there any labels in particular that you'd like to work with?
We honestly would be happy on any label that would be willing to support us and our music, without simultaneously fucking our assholes. Fat Wreck [Chords] is a label that we respect and admire and would probably each donate a testicle to sign to.
Do you guys have any tour plans for 2010?
We plan on touring, we just don't have anything planned. It would be nice to get on a tour with a bigger band because they like us and our music. I know a kid who was in a band that bought their way onto a few big name tours last year and it made me lose a lot of respect for the bands that accepted that money. What ever happened to bands helping younger bands out without a hefty donation from one of the member's parents? Having said that, we wouldn't be against performing sexual favors.
Where can people pick up your new album?
You can download it on iTunes or any other major online retailer. You can go to our shows for a physical copy or you can send us a message on Myspace or Facebook and we will work out payment through PayPal and ship you the physical CD.
You guys released I'm Telling Everyone last year…how do you think your sound has changed since your first album, Yeah Right! vs. I'm Telling Everyone?
We wanted to make our music more accessible to people without draining it of any intensity or edge. Our bassist wrote more songs for the album this time around and he kind of kept things from getting too poppy.
You recorded I'm Telling Everyone by yourselves, give us some insight into that process and what you learned.
We were really turned off by the prospect of paying a producer a ridiculous amount of money to get an album that sounds how they want it to sound and not how we want it to sound. Our friend let us borrow his studio to record drums for two days and we did the rest in my bedroom and bathroom. I had kids from every band in the area come over and record group vocals and give us feedback on the record. We got our CDs printed through Punknews's very own Ben Conoley. Everything turned out a lot better than we could have possibly imagined.
Was there anything in particular that you were listening to when you were writing I'm Telling Everyone that influenced you, either musically or lyrically?
I don't think that anything on the record turned out like anything I was listening to at the time. I went through a few months where Elvis Costello's My Aim is True was stuck in my car stereo, so maybe I was influenced by some of that lyrically. I remember there was a practice where we were figuring out the songs on the record and our guitarist, Kyle, was like, "Maybe we shouldn't have the forbidden beat on this album," and the rest of us looked at him like he was crazy… now he knows.
Any last thoughts?
Thanks for interviewing us/me!
p.s. meat babies r00l.