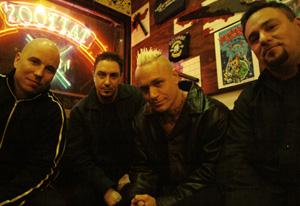 Sick Of It All have revealed some more details about their upcoming album. The record is titled Based On A True Story and is due out April 20, 2010 via Century Media. It is the follow-up to Death to Tyrants which was released in 2006.
The album was recorded at Antfarm Studios in Århus, Denmark with Danish producer Tue Madsen (Behemoth, The Haunted). Drummer Armand Majidi put together a track-by-track description of the contents and that can be found via Rocksound.
Death or Jail
The Divide
Dominated
A Month of Sundays
Braveheart
Bent Outta Shape
Lowest Common Denominator
Good Cop
Lifeline
Watch It Burn
Waiting for the Day
Long as She's Standing
Nobody Rules
Gone to Ground