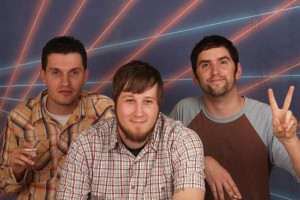 North Lincoln was a band from Grand Rapids, Michigan that managed to stick around the punk scene for a little over ten years. They released two full-length albums, two CD ep's and five 7" records. Their last full-length, Midwestern Blood, was released in 2009 by No Idea Records.
On January 16, 2010, the band played their final show to over 600 people at Mulligan's Pub in Grand Rapids. Recently, RJ Cresswell conducted a retrospective interview with Kevin Nunn, the band's vocalist and guitar player.
You guys recently played your last show. Describe that experience. Where/when was it? How did the show go? Who else played? Do you feel it was a proper end to the legacy of North Lincoln? Did anyone cry?
Well, we basically hadn't functioned as a band since the last tour. I hadn't even seen Brian since we had gotten home from FEST, so it was a little strange leading up to it. I was actually kind of surprised at how I really had no feeling towards it. Even up to about show time I really had no feelings about the show. I just wanted to get it over mostly.
The place we had the show at is a little small but does all free shows, which is what we wanted. It's a great place here in town called Mulligan's Pub. We had two sets of good friends playing with us, Junior Battles, from Toronto, and Cain Marko, from here in Grand Rapids. We showed up early and set up a bunch of recording equipment, then, took off again, but by the time we got back, the place was already over capacity an hour before the show even started. The whole night was totally insane. I think the capacity of the bar is 265, and by the time we went on, the clicker was at 640. We were blown away to be honest. I've never really felt that people were into North Lincoln that much, so I was taken back to see such a showing of friends and strangers who came to share the night with us.
There is no legacy of North Lincoln to anyone besides the three of us, but for that night, it really changed so many ways I looked at, and thought about, the band. It was definitely a very sad moment once I started tuning and looking over at John and Brian. After things got rolling, it wasn't really anything that I thought about while we were playing. Not even after we got done did I really think about it. It was more once the bar kicked everyone out besides us, and I was sitting and having a beer that it hit me like, "Fuck, that was sweet."
Last year No Idea Records released Midwestern Blood. I think the record is pretty solid, and critically, it was well-received. What made you guys decide to call it quits now? Midwestern Blood was just a two year process to get finished, and we put everything into that as far as the band was concerned. I think it emptied us. Not the wait for the album by any means, but the writing and tension that it took to create those songs just emptied the tank of the band. We had another half an album written before that even came out. We kind of scrapped a bunch of it, which turned into the 7" that came out on Kiss of Death. It was obvious we were done to me. We spent years and years on the road destroying everything we had at the time: jobs, relationships, and friendships. We got to a point where we were all saying, "You know what, I'm not willing to fuck things up anymore for this. I just can't do it." And that's all it really took - us realizing that and saying it to each other. Like, "Hey, I love you and I love this band, but we're not really friends anymore and that sucks. I'd rather work on keeping our friendships than keeping the band going," and since then it's been great. I love seeing those dudes and everything they are doing now. Our bands play together. I'm supposed to be playing live in a band that John's been doing. For us, not much is changing.
What were some of your best and worst experiences playing with North Lincoln?
I mean the best thing, easily, is the people we've gotten to meet and the places we've gotten to go. Shit, in 1999, I never would have imagined that we three dudes from Grand Rapids, Michigan would get to tour the entire country times over, Canada, the U.K., Europe, and on and on. Hell, no one from this town had gotten to before we did, besides Mustard Plug and the Verve Pipe. More bands from here get to now, and that's amazing. I'm stoked for them because Grand Rapids has always had great bands.
Then, on top of that, we met thousands of amazing people, famous people, semi kind of punk related famous people. It was amazing. Plus, we got to be on No Idea Records - without a doubt, the 7-8-9 most amazing and supportive people that put out records in the world.
I mean, think about how lucky were we? Not lucky in the sense that we hit some lottery - we worked hard for everything we got to do, but we couldn't have asked for better friendships that came out of all those things we got to do. If you want to talk about downsides, yeah, health and mental breakdowns over tours and tours and tours, but at the moment, I have a hard time seeing any downsides in anything we did.
Think back to the band's inception. Why was North Lincoln formed? Were there any long term plans for the band then? If so, did you guys exceed or fail those ambitions?
No, no plans what so ever. We hated doing the bands we were doing at the time and just wanted to do something new. North Lincoln in 1999 didn't sound anything like 2009. Trust me. There was, at the time, no ambition besides hanging out together, writing some music, and doing nothing. I'd have to say we exceeded that a little bit.
I've read that there may be plans to posthumously release a collection of new songs. Is this true? If so, what can be expected from the record, and could it possibly breathe enough life into North Lincoln for a show or even a tour?
Yeah, there's collection talk and songs that have yet to be released. There were four songs after the Kiss of Death 7" (we like to note the irony of finally doing something on Kiss of Death, then breaking up), including the last song we ever wrote called "Swan Song," which kind of became a hit on the U.K. tour and back home. Those will be released I guess either as split 7"s or on a collection, but we've had artwork ready and an idea about track listings, so I'd say it's a good bet to happen. We also recorded the last set like I had said earlier. It'll be up online for free download via Quote/Unquote [Records] I believe in a few weeks time.
What do you and your band mates have planned for life beyond North Lincoln: school, work, family, moves, etc.? Are there any new bands or projects in the works? If so, give a brief description/explanation of them.
We've all been doing new bands for over a year. I've been playing bass and singing in the band Wormburner. We put out a 7" on Salinas Records last year and will have a LP later this year. John has been doing the band Hanger with our friend Brian Pryz who is also in Wormburner. They are a two-piece at the moment, kind of like Bedhead. I think I'm playing bass in that as well when they start playing out live more. And Brian has been doing a pop-punk band called Just For Kicks. Besides that stuff, we've really stuck to why we decided to end the band in the first place. We've got good jobs, good lives, and good relationships. We love Grand Rapids. We'll be around here for a while to come. I'll be getting married. I'm sure John and Brian will too. It's nice, kind of having a "normal" home life for the time being. It's getting itchy though. That road is calling a little.
Based on your experiences of recording, releasing, playing and touring with North Lincoln, what lessons have you learned and what advice would you give to upstart bands?
It's tough, even harder now, and it's only going to get harder. I did learn that it's easier the more down to earth you are. Deal and work with down to earth people. All of these bands that people put on pedestals, no matter how Against Me! sized, or NOFX sized, or North Lincoln sized, are just people working hard at doing something they love. If you're in a band you love, then just keep doing it. Does it really matter how big you get, or if you get to tour, or play Fest? Not really. It's about making yourself happy, and when North Lincoln stopped making me happy, I quit and it saved my friendships with two of my best friends on this planet. I wouldn't change anything we've ever done or any fight we ever had.
Who/what were the biggest influences on North Lincoln and to whom does North Lincoln owe the most gratitude?
Our biggest influences were just our friends and where we're from. It's what we always wrote about and will probably always write about. I wouldn't know who we owe the most to, probably each other. We never would have made it this far without No Idea. That's for sure. I know some of the records they passed on to put out our first album and they put ours out because we were friends first. That'll always mean a lot to me. I'm just glad people cared, even just a little, that we existed.