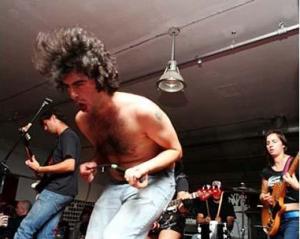 Nick Flanagan of irreverent Toronto hardcore act Brutal Knights has posted an update on the band's next record. The group was recently in the studio for their first recording since last year's "Total Rebellion" sessions, tracking a song for a DVD titled Fantasia In Best Show Minor, a collection being put together by WFMU's The Best Show On with Tom Scharpling. On the band's next album Flanagan commented:

Anyway, the plan is to write a bunch more songs this year, redo a couple of songs from Total Rebellion, and to cover two songs by Ottawa superpunx Furnaceface, and then release it as an album. What will the album be called? Only my mood this year will decide…thanks for all the nice messages and stuff you send us. It's nice that people are still excited about our pizza band.
Brutal Knights released Feast of Shame in 2007 followed the next year by the Living By Yourself EP.