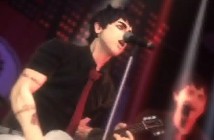 Details have been revealed for the forthcoming rhythm game, Rock Band: Green Day. As the name suggests, the game will feature 47 songs from the titular band including "Brain Stew," "Jaded," "Hitchin' a Ride," "American Idiot," "Wake Me Up When September Ends" and "Boulevard of Broken Dreams." Like Harmonix's previous single band game, Rock Band: The Beatles, the game will feature progress through the career of the trio, unlocking collectible images and some 40 minutes of "rare and unreleased" footage from interviews, outtakes and performances.
Due out June 8, 2010, the game will feature the ability to export songs to Rock Band 2 as well as the kind of uncanny valley animated versions of the band you've come to expect from the series.
Check out a trailer here>.