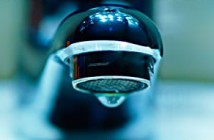 Posting from a tour stop in Lethbridge, Alberta, Against Me! frontman Tom Gabel acknowledged the leak of the band's upcoming full length White Crosses. Claiming "No drama" he's offered up the full lyrics for the album on his blog for those that have heard it. The album is tentatively slated for an early June release. It follows up 2007's major label debut New Wave. It'll also be the band's first album with new drummer George Rebelo of Hot Water Music fame.
Against Me! is currently on tour in Canada with Alexisonfire and Billy Talent.
Commenters: For the sake of keeping Punknews out of hot water I'm going to be deleting your sharing links (Mediafire etc) if you post them here. I know Tom seems fairly accepting of the fact that it's out there, but I doubt Warner is and we have better ways to spend our Monday afternoon than fighting off lawyers. Just a heads up.