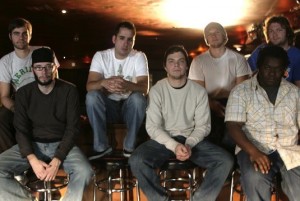 The strained relationship between ska-punks Streetlight Manifesto and their label Victory Records reached a new level of tension last week. The band posted the following on their website.

If you want to support Streetlight Manifesto by buying a CD, shirt, hoodie, poster, etc etc, PLEASE do not buy anything from Victory Records or their website. Use our online store or come out to a show and support the band by buying merch there. We cannot condone or agree with the actions or ethics of our record label, nor do we want to support them financially through revenue made under the guise of helping Streetlight. Hey douchebag lawyers: This is not libel or slander. We're just letting our fans know how best to support the band if they should choose to do so by buying stuff. That is all.

As a bonus, let's play "GUESS THAT QUOTE"!!!1! Here it is: "I absolutely believe that allowing people to cherry-pick the tracks they want from each album cannibalizes full-length album sales and is ultimately detrimental to the artists who created the music. It is important for people to experience the entire album. Not just a track(s)."

You probably guessed it, so we'll just go ahead and give you your prize: Another full, high quality mp3 from our new record! Apparently, Victory chose this as our first "single" for us, which we found out by seeing it iTunes. Awesome! Thanks guys!~
That quote is of course Victory head Tony Brummel in a 2006 interview with Hits Daily Double (we reported on it here). The song in question, a cover of Paul Simon's "Me & Julio Down By The Schoolyard," is available to download at the band's website. Victory has made no public response as of this time.