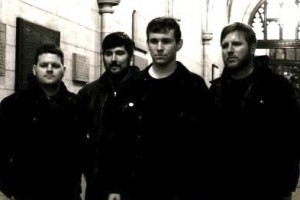 Against Me! have fleshed out their spring North American tour as well as a run through Europe beginning in mid-May. The US dates come almost immediately after they wrap up their Canadian tour supporting Billy Talent and Alexisonfire. They will feature support from Dead To Me and Moneybrother.
In related news, members of Against Me! and Alexisonfire have started a Misfits cover band. Against Me! bassist Andrew Seward explained:

We're starting a Misfits cover band with Wade [MacNeil] from Alexisonfire. It's Tom [Gabel], James [Bowman], myself and Wade; and we're going to play in Thunder Bay on our next day off opening for Alexisonfire. We're called Horror Business. We're great. We know three songs so far, but after today I think we'll know five Misfits songs.
Take that with the appropriate grain of salt.
| DATE | VENUE | CITY |
| --- | --- | --- |
| April 16, 2010 | The Handlebar | Greenville, South Carolina |
| April 17, 2010 | Alley Katz | Richmond, Virginia |
| April 18, 2010 | Jefferson Theatre | Charlottesville, Virginia |
| April 20, 2010 | Southgate House | Newport, Kentucky |
| April 21, 2010 | Headliners Music Hall | Louisville, Kentucky |
| April 22, 2010 | Blind Pig | Ann Arbor, Michigan |
| April 23, 2010 | Headliners | Toledo, Ohio |
| April 24, 2010 | Town Ballroom | Buffalo, New York |
| April 25, 2010 | Higher Ground | Burlington, Vermont |
| April 26, 2010 | Toad's Place | New Haven, Connecticut |
| April 28, 2010 | Port City Music Hall | Portland, Maine |
| April 29, 2010 | Stone Pony | Asbury Park, New Jersey |
| April 30, 2010 | Crazy Donkey | Farmingdale, New York |
| May 2, 2010 | Diesel | Pittsburgh, Pennsylvania |
| May 8, 2010 | Sunset Station Hotel and Casino | Henderson, Nevada |
| May 10, 2010 | Jake's | Lubbock, Texas |
| May 11, 2010 | Scoutbar | San Antonio, Texas |
| May 24, 2010 | 59 to 1 | Munich, Germany, |
| May 25, 2010 | Luxor | Cologne, Germany, |
| May 26, 2010 | Logo | Hamburg, Germany, |
| May 27, 2010 | Festsaal Kreusberg | Berlin, Germany, |
| May 29, 2010 | Slam Dunk Festival at University of Hertfords | Hatfield, UK, |
| May 30, 2010 | Slam Dunk Festival at University of Leeds | Leeds, UK, |
| May 31, 2010 | Slam Dunk Festival | Glasgow, UK, |
| June 1, 2010 | The Relentless Garage | London, UK, |
| June 2, 2010 | Academy 3 | Manchester, UK, |
| June 3, 2010 | 02 Academy 2 | Birmingham, UK, |
| June 13, 2010 | Bonnaroo | Manchester, Tennessee |
| August 12, 2010 | Oya Festival | Oslo, Norway, |