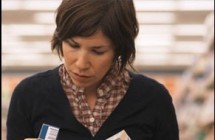 In a new interview, NPR personality and actor Carrie Brownstein talked briefly about her defunct band, Sleater-Kinney and addressed the ever popular questions of a reunion:

Janet [Weiss], Corin [Tucker] and I are still great friends. And we will probably do something. It's so intense, that band. We spent 11 years committed to that band, heart and soul. To get back into it we have to be in that place where we can immerse ourselves fully. I think it will happen. We have to loop around, and we're at the far end of the circle, away from the band, but I think we will come back and revisit it. And hopefully that record will be sometime in the next five years.
The band split up in 2006 after the release of their critically acclaimed Sub Pop Records debut, The Woods, in 2005.