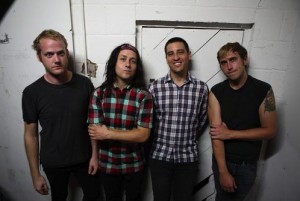 In anticipation of their upcoming tour, No Friends have posted their new EP, Traditional Failures as a free download. The physical release is expected to arrive from the pressing plant very soon, and as reported here, it'll be a one-sided, 45 RPM 12" LP. Check out the free download here.
The band, which features Tony Foresta (Municipal Waste), Sam Johnson (Virgins, New Mexican Disaster Squad), Alex Goldfarb (Gatorface, New Mexican Disaster Squad, Virgins) and Richard Minino (Gatorface, New Mexican Disaster Squad, None More Black), released their self-titled debut through No Idea Records in 2009.
The release of this EP marks the first of many free downloads that will be available from Kiss of Death. The plan is to make a lower quality download (128kbps) available for free for every label release, with a higher-quality download (320kbps) available at a small fee.