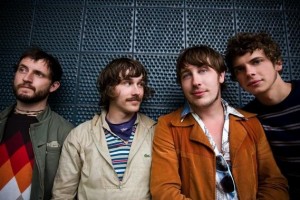 Portugal. The Man have signed to Atlantic Records. Frontman John Gourley posted a lengthy statement on the band's website explaining the move. Here's an excerpt:
"Well, at the end of last summer we started getting calls from labels. Calls that we brushed off without thinking much of it. We voiced our concerns and stood by our love of what we do and what we have built. Some of these label people tired of it and others didn't, eventually bringing us into meetings. At the end of this chapter we were offered an amazing opportunity to begin the next walk of life in this project. We were approached by Atlantic Records about seven or eight months ago and as of a couple of days ago have made a decision to join their family, and let them into ours. This decision was not made based on one or two talks, or without other labels contacting us, but based on history of the label and the history of our band. Atlantic Records has been home to so many of our favorite artists and has done so many great things for these groups. You can go down the list: Rolling Stones, Crosby Stills and Nash (and Young), Ray Charles, Otis Redding, The Coasters… and so on until today."
The band had previously been in a distribution deal with Equal Vision Records, and recently released American Ghetto.