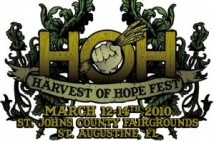 The Harvest of Hope Festival recently wrapped up its second annual weekend of music in support of the Harvest of Hope Foundation. With acts ranging from Billy Bragg to Dead Prez and three days' worth of punk bands in between, the festival has quickly found a place in the punk community as the spring break destination for charitable music fans.
Punknews interview writer, Sarah Collins, recently conducted an in-depth look at the people behind the scenes and on the stage at Harvest of Hope Festival. Today, tomorrow and Thursday, we'll bring you the story of how such a positive and fun weekend was started.
How the guys behind the Fest and No Idea Records turned Harvest of Hope into punk's most popular foundation.
These songs were supposed to be dead. But here we were waiting for the great resurrection. It was Thanksgiving Day, 2007, and Against Me! was playing its first billed acoustic show since it went electric. And that meant there was a chance -- a small chance -- that they would return to the early EPs. Gabel says they went acoustic that night to raise the profile of the show, a benefit for Harvest of Hope, a charity for migrant farm workers. "We wanted to do something different and special for people coming out to spend their holiday with us," Gabel says. It worked. Fans spent months discussing the show, trying to figure out whether it would be like the early days, or just new songs in an old format. In all the talk, Harvest of Hope became an indelible phrase. If Against Me! was willing to unplug for the foundation, there must be something to it.
But when Phil Kellerman took the stage to talk about his charity, he couldn't have had half the audience's attention. Anyone would seem soft-spoken after openers World Inferno Friendship Society and Sage Francis, but Kellerman is an unassuming man. The aging hippy has doled out hundreds of thousands of dollars to migrant farm workers and helped start the annual Harvest of Hope Festival in St. Augustine, Fla., but he still hasn't learned how to command a crowd. So Kellerman didn't have much of a chance competing with the anticipation in the room. The audience was polite while he discussed worker's rights, but the air was brittle. I stood there digging my nails into alternate arms, waiting with the rest of the crowd to see if Against Me! would play those old songs the way they were written. Gabel took the stage, alone, and I grabbed my friend's arm harder than is polite. And he played 'Joy.' And it was good. And then the band took the stage, and they played 'What We Worked For.' And I hit him harder than I should have, and the whole room fell on each other, laughing and crying and clapping, singing all the words we had been carrying around with us for the past four years. My only clear memory is watching the band take the stage. After that it's just a nauseous kind of bliss. No migrants, no charity, just the shaky joy of hearing my favorite song live for the last time.
Strike Anywhere
Kellerman has a saint's face, long, with a wiry beard and big, soft eyes brimming with empathy. It helps him do his best work, one-on-one. He speaks softly, but he talks to people in a way that ensures they always hear. He makes eye contact, lays his hand on arms, remembers and uses names. He is gentle. It's harder to picture him fighting for rights than wrapping the world in a bear hug to make it better. But Kellerman has corralled an impressive number of donations and passed them out to an extensive network of people. To meet him is to know how that network came about—face-to-face, through intimate appeals and personal connections. That's how Ryan Murphy became the founder of Harvest of Hope Festival, now in its third year. Murphy was pursuing a master's degree in bilingual education at the University of Florida and volunteering at an after-care program for migrant children when he heard about Harvest of Hope. Murphy met Kellerman and quickly found out they had a network of mutual friends and a shared hometown. "I really got into the work that Harvest of Hope does," says Murphy, who began working at the foundation. Kellerman asks that all employees help with fundraising for the foundation, since large sponsors are hard to come by. "I was like, well, I'm so heavily-involved with the music scene," says Murphy. "The easiest thing I could do is just put on some benefit shows."
So Murphy, a long-time employee at No Idea Records, began to call his friends. He started with smaller bands, coordinating benefits as he could. Then he reached out to Against Me! And that's how the little benefits he did on the side turned into a full-time job.
"Back when he had just started getting involved with the organization, he asked if we wanted to play a benefit show," says Gabel. The band was starting to get major recognition, and they agreed to throw their fame behind Harvest of Hope. "Migrant farm workers' issues are important to me, so when I found out what Harvest of Hope was about I got really excited," says Gabel. Like Murphy, he saw benefit shows as the best way he could help support the cause. "There's nothing more useful that we can do with our bands modest prominence then lending it to a worthwhile cause," he says. With Against Me! performing, benefit shows could bring in a couple thousand dollars a night, so Murphy kept asking.
"The more [Against Me!] did stuff, the more I would ask them, 'Hey, wanna do another benefit show? Wanna do another benefit show? '" says Murphy. After a certain point he didn't have to ask anymore. "They just kind of took the ball and ran with it."
The transparency of the foundation, and its direct-aid nature—where all the money raised goes straight to migrants in the form of small donations—was the selling point. "What really stood out about Harvest of Hope to me was the simplicity of the idea. Taking money and directly helping those who need it," says Gabel. "To me it seems like HoH is about empowering people as well as giving them a hand."
Against Me! "could see that them just playing a show a few days later made that much of a difference," says Murphy.
The benefits brought in enough money to start changing the way Harvest of Hope operated, keeping Kellerman from funding it out of pocket. It made all the difference for the foundation, so they started talking about something bigger. Like three day festival big.
Certain words are repeated when Murphy and Kellerman talk about migrants -- "Invisible population," "money," "help." "They earn our support" appears on pins and is peppered in conversation. They are so used to people not knowing about the cause that they've turned explaining it into a routine. Even Murphy's politically-active friends were ignorant. "It was a shock to tell them that, literally, you drive ten minutes outside of Gainesville, you'll find migrant camps" says Murphy. "Hundreds of campers, and trailers and shack camps; these are the people who are working out here."
Tim Barry, a folk singer who played last year's festival, has seen the same thing. "You get on a freight train and ride that shit through the country -- which is a habit of mine -- you look out a boxcar door in a rural portion and you see these folks working in the fields and it's almost mind-blowing," he says. "And you can tell the ones who have crossed the border or traveled around the country riding freight trains because whenever a freight train comes by, they all look up and they wave to you, because they've done the same thing."