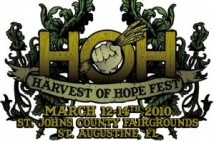 The Harvest of Hope Festival recently wrapped up its second annual weekend of music in support of the Harvest of Hope Foundation. With acts ranging from Billy Bragg to Dead Prez and three days' worth of punk bands in between, the festival has quickly found a place in the punk community as the spring break destination for charitable music fans.
Punknews interview writer, Sarah Collins, recently conducted an in-depth look at the people behind the scenes and on the stage at Harvest of Hope Festival. Yesterday's article focused on the founding of Harvest of Hope. Today's covers the direct and meaningful impact that the foundation has on those who benefit from it. Tomorrow's story will explain how the festival came together.
Want to help out? Why not check out some items being auctioned off for Harvest of Hope through eBay. You can do that here.
How the guys behind the Fest and No Idea Records turned Harvest of Hope into punk's most popular foundation.
No one is sure how many migrant farmers are in the United States, because about half are estimated to be undocumented by the National Agricultural Workers Survey. With a population that's forced into hiding, the survey can only guess there are somewhere around three million itinerant laborers in the country.
Phil Kellerman started working with the shifting population in college, staffing a hotline funded by the Department of Education to direct migrants with school-aged children to local educational resources. "We got about 2,000 calls the first year," he says, "so we knew we hit on something really good." The hotline was one of the only services available to migrants, and it began receiving calls asking for help of every sort. "There was so little aid for migrant farm workers for things that they were calling for," Kellerman says. "We were just becoming this referral service." He watched the callers circle through the Salvation Army and community groups and back to the hotline. "That's when I started thinking that maybe we needed a non-profit, 501(c)(3), to fill in some of the gaps." A direct-aid foundation could offer the migrants the help they were calling for, taking care of essential bills immediately. When his grandmother left him an inheritance, Kellerman decided to use the money to start a foundation in her honor.
Direct-aid charities are outcasts in the philanthropy world, which tends to focus on institutional change. "That usually means a glass and steel building with their name on it," says Kellerman. His unconventional approach involves changing individual lives by putting fifty or one hundred dollars where it's needed the most. He's seen small bills devastate families, and he's more concerned with keeping people solvent than with fixing a broken system. Once again, Kellerman does his best work on an individual basis.
In its twelve years, Harvest of Hope has doled out over $788,000 to around 10,000 migrants. Olga Bautista is on the low end of recipients, receiving just enough to pay her utility bills for the month, but the small amount made a huge difference to her. The foundation also picked up her mother and father's bills for three months while the couple was out of work. The family lives in the Rio Grande Valley, just north of the Mexico/Texas border, where over fifty percent of Harvest of Hope donations go. "There's no help in the valley," says Kellerman. "We want to keep the lights on."
Harvest of Hope stretches like a spider through the South, connecting and funding the scattered people who are willing to help migrants. Kellerman sends used tennis shoes to former migrant Hermila Garcia, who distributes them to the Rio Grande's poorer residents. According to her, Harvest of Hope is the only way she can care for families. Kellerman also helps get migrants out of Texas, sending them to Janie Bonda, a former migrant and owner of the Tire Corral in Allen, Texas. She checks their cars and fits them with new tires for a deep discount. "Some of us do very well for ourselves, and we have the tendency to forget that the need is still out there," says Bonda. She describes the migrants' cars like automotive horror stories. "I went out and I looked at the vehicle and I was like, 'Oh dear god.' There were steel belts hanging out [of the tires] and I'm thinking, 'How did they drive here?'" Battered though they may be, the cars are necessary to get to the next day's work, often in Michigan or further north. Bonda is able to fix them up enough to get them on their way.
The next stop is often Hope, Arkansas, where Patti and Bob Williford run a center for migrant farm laborers. Hope is another big place for breakdowns, and Kellerman is there, working on establishing a permanent fund to get stranded migrants out of Hope, a halfway point between southern Texas and northern work. "I wouldn't even begin to try to tell you how many migrants have come through here," says Patti Williford. "There was a time when we probably had thirty to forty thousand a year coming through. I think we're down to about ten thousand a year now." Patti runs the educational part of the Migrant Farm Labor Center, working with the children of migrants, whose frequent moves often cause them to fall behind in school. Some of the money Against Me! raised through their shows went to Hope to fund scholarships, one of the few forms of institutional change Kellerman recognizes. He and Patti both believe that through education, the community will be able to lift itself up over time. While most of the help Harvest of Hope provides is by way of small donations, occasionally a particular cause, like scholarships, will require more attention and money. Diana Olalde is one such cause. Olalde was diagnosed with leukemia in 2006, and medical care isn't an option for most migrants, who enjoy very few workers' rights. "With Diana, she'd been turned down because she's the daughter of undocumenteds. The state of Georgia wouldn't touch her," says Phil's brother, Ed Kellerman. The foundation got her accepted at St. Jude's Children's Hospital, who agreed to treat her free of charge. Harvest of Hope -- with donations from the Olalde's friends and family and the money raised by Against Me!'s Chicago acoustic show -- paid rent and utilities on her family home while she was undergoing her bone-marrow transplant. It's one of their most expensive cases, but also one of their most gratifying.
Harvest of Hope started with forty-six dollars in the bank, and every time money comes in, Kellerman hands it back out in direct-aid donations to migrant farmers. Whether it's medical bills, tuition, or a tank of gas, he's there to cut a check. Murphy describes him as always on the phone, handling requests, and dispatching funds. The money from the benefit shows and the first year's festival kept the foundation afloat, but without a massive influx of money, Harvest of Hope can't add employees or grow as an organization. Big money donors are notably absent—most don't see the benefit of helping migrants or how much difference such a small amount of money can make. "We don't get corporate grants," says Kellerman. "We don't even apply for corporate grants, because they don't get anything from their end for helping migrant farm workers." So the unusual foundation went looking for an equally unusual way to raise funds.