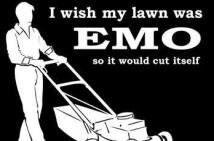 Deep Elm has posted a request for submissions for the upcoming volume of their resuscitated Emo Diaries series. After calling it quits in 2004, the series was resurrected by the release of Emo Diaries 11: Taking Back What's Ours in 2007.
The label had this to say:

For nearly 15 years, "The Emo Diaries" has been Deep Elm's way of documenting an extraordinary and powerful style of music that possesses the ability to stir emotion like no other. "The Emo Diaries" has introduced over 135 incredible bands including Jimmy Eat World, The Appleseed Cast, This Drama, Further Seems Forever (featuring Chris Carrabba of Dashboard Confessional), Planes Mistaken For Stars, The Movielife and many more to fans wordwide. All songs are exclusive and unreleased, making each chapter of "The Emo Diaries" a true compilation, not a sampler of previously released music. Bands are selected to participate based on open, blind submissions of their music. Only the music matters, not who the band is… and that's the way it should be.

Submission for Chapter 12 is open to any artist, signed or unsigned, throughout the world. There is no cost to participate and selected bands will be informed all details including worldwide promotion, publicity, marketing, distribution and royalties. Submission will close when the label has selected 12 songs for worldwide release.
You can submit music here.