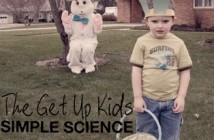 Looks like the Get Up Kids' recently announced EP will be turning into a series. The band posted this on their official website:

collection of 3 EP's released in 2010 by The Get Up Kids. Each release contains four new original songs and will be made available in limited 12″, 10″ and CD form. The songs will digitally live forever exclusively on Itunes. The first EP will be released in April 2010 with the second planned for the summer and the third planned for the fall of the same year.
The band goes on to note that the songs were written spontaneously and recorded mostly live to 2″ tape at The Black Lodge with Ed Rose and "almost no computer technology was used."
Once out, it'll be the band's first new material since 2004's Guilt Show.