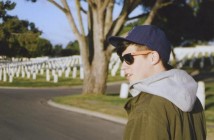 Garage-rock hero Wavves has wrapped up work on their next album, according to a new blog post. The surf/punk/noise outfit led by Nathan Williams and he had this to say:

So Stephen [Pope], Billy [Hayes] and I will be playing our third show in the US together tomorrow night at the High Tone in Memphis. We are all very excited since they let us smoke weed in their kitchen. We also finished recording a record in Oxford, Mississippi and are currently mixing it. Sounds caraaazaaaaaayyy and will be out this summer.
Pope and Hayes were formerly the backing band of late provocateur, Jay Reatard. They quit his band in October 2009 and joined Wavves a month later.