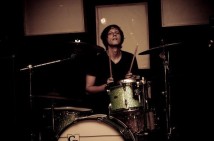 Former Look Mexico drummer Joshua Mikel recently commented on his notable absence from the band in recent months:
"In January I decided my time as the drummer for Look Mexico was up. It happened for a number of reasons, and anyone who is close to me knows that it was an incredibly hard decision that I struggled with for a very long time. I just wasn't happy anymore. I felt like I was becoming more of an obstacle than an aide in the songwriting and creative process of the band. Mainly, I think, because I felt like our songwriting was at its best on our Gasp Asp EP- and that's the proverbial creative difference I had with the band. It was fun and exciting being a drummer for the high energy, high intricacy songs of Gasp Asp, but call it hardheaded conservatism, call it immaturity - I wanted to keep playing music like that. So that difference of opinion compounded with my family's health issues, my own health issues, and the sheer uncertainty of being in a rock band these days, I figured after six years in the band, I'd call it a day before we got too involved in writing the next effort. I had an amazing time playing music with Look Mexico. I met a whole shit ton of incredible incredible people and made so many friends that I would have otherwise never met. I saw the entire continental U.S. (save the Dakotas, Montana, and Wyoming), and I had a fucking incredible time doing it. I'm spending some good time with my family, concentrating more on my design business and I'm getting ready to take the GRE this summer to begin my grad school application process for Fall 2011 acceptance. I guess where I end up for grad school will decide what band I'm playing for next. Thanks to all the folks who gave us their love, floorspace, food, and wonderful company. I hope to see you all again soon, one way or another."
The band recently released To Bed To Battle. Mikel continues to do design work under the name Sharkguts.