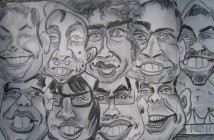 Today we're stoked to bring you a Dispatch from our good buddies Bridge and Tunnel and Young Livers. They're currently over the pond in Europe and (from the sounds of it) having a great time. Today we've got a message from Rachel of Bridge and Tunnel and tomorrow we'll have more from Matt from Young Livers. Rachel tells all about dance parties in clubs, eating good food and more. Read the whole thing below.
Bridge and Tunnel just dropped Indoor Voices, which you can stream here and Young Livers are anticipating the release of Of Misery and Toil on April 27, 2010
Rachel
Bridge and Tunnel
Trying to digest a big meal still hours after playing, sweating, and (over-share) burping vomit in your own mouth is not necessarily a common "problem" while touring in the states; however, I am confident to assume that myself and my cohorts are all in this same position. We are 9 shows into our European tour with our good buds and label-mates Young Livers. Things thus far have been, well, lets say: magical. During our glorious dinner (and cake!) tonight in Koblenz, Germany we discussed some highlights and lowlights in the tour so far.
The overall lowlight was agreed to be the smell of the bathroom in the pizza shop we played a few days prior. My personal highlights usually include some sort of outdoor or athletic adventures, and my ever-growing list of favorite bands to have played shows with. Our tour began on a high note in that realm. We've shared three shows so far with another female fronted band, a three piece called Caves from the UK. Their catchy melodies will immediately implant themselves in any fortunate listener's brain. Their wonderful personalities will charm anyone into a fast friendship. I enjoyed the delight of both as we kept late hours playing darts, sharing stories, and arm wrestling. The resounding highlight immediately noted among our group of 9 however was the epic adventures of our previous day.
It began with large euro-style breakfast of breads and spreads and fruit and chocolate stuff to spread on everything! Followed by a hike in the Black Forrest to Germany's largest waterfall. It was a nice way to break up the day, since our drive was a bit shorter than the 10 hours spent in the van the day before. We took as many pictures as one waterfall could merit, and finished our hike still with enough time to arrive early to our destination (thank you Jan). Our show at KTS, a squat in Freiberg, Germany, was a repeat occurrence for us both. Despite some sound issues and a recurring guitar amp problem, we made the most of it and played hard on a stage that resembled many of the mid-size rock venues in the US- dirty, dilapidated, covered in stickers and posters and graffiti. However, at this venue, we were greeted with a large hot vegan meal, a fresh pot of coffee, and all the German pilsner anyone could hope for. Am I in heaven? If there is any such place, it is described here in these few paragraphs.
The real highlight of the evening began after hours, as most often do. My memory from the previous year of a large dance party in the venue that extended into the early hours of the morning was now about to become an annual event. The majority of us all somehow became involved in a total rager, dancing through the night to the familiar songs we rotated on our own I-pods. With very patient accommodating bartenders and the stereo not quite working, everyone took a turn as the DJ. We lost all inhibition and let ourselves enter fully into a world of pure good old-fashioned fun through our various stages of intoxication or lack thereof. The usual crowd pleasers: 90's hip hop (thank you 2Pac), modern pop (thank you Brittany, thank you Lady Gaga), and other random guilty pleasures (Vanilla Ice's Ninja Rap!) rang in my ears as I tried to lay down for a few hours of sleep. My tinnitus only temporarily soothed by the sound of a fan set on low speed facing the window in the room where the 8 of us slept on 2 long rows of bunk beds.
To be able to feel free to act so ridiculous in the company we keep is somewhat rare, and in this, I feel that best I have in months. It says a great deal about the relationships that form and are cultivated between people who play music together. The extremely intimate experience of writing and recording music is only heightened when you then sit in a cramped van practically on top of each other for a month straight. Sweaty dirty clothing, candy wrappers, empty (and sometimes full- sorry Jan) beer cans and water bottles all litter our shared mobile bedroom. My only "personal space" is now limited to the greatest capacity of my messenger bag. Yet through all this, I am so grateful to be able to share this experience with my own band mates and with my current van mates in Young Livers. Touring Europe for a second time is such an amazing privilege and I couldn't think of eight other dudes I'd rather be with. Each morning I wake up knowing that every awesome experience we are sharing is going to last in our minds, hearts, and photo albums.
-Rachel
Bridge and Tunnel