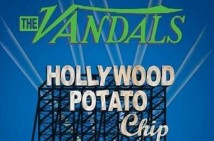 According to an Exclaim report, Variety magazine has once again sued The Vandals for their 2004 parody version of the logo from Hollywood Potato Chip. The band settled the issue initially in late 2004, but the issue has come up again due to the parody mark appearing on other sites. The Vandals posted this statement:

We also need other help. The Daily Variety claims that our old logo for Hollywood Potato Chip, which is a parody of the Daily Variety logo commenting on the materialistic culture of Hollywood, is still on the Internet and they are suing us for this. We agreed not to use this logo anymore and we have no product for sale with this logo so their claims that we are intentionally using it and harming the Daily Variety are ludicrous.

Now they are in the process of punishing us with an abusive law suit filed in Delaware, where none of the parties reside or do business, because this will cause us the most financial harm and when we get sick of it, and realize we can't afford to fight them, we will pay them the money. That is our opinion of what is going on because we cooperated in every way to try to take the images down, but they filed the suit anyway…. in Delaware.
The band is planning a Vandals benefit show in the next little while to raise money to cover the legal fees.