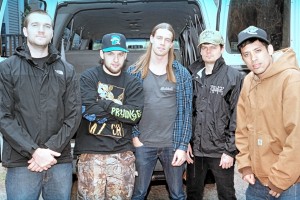 Bridge Nine Records hardcore act Cruel Hand have unveiled plans to release their third album this summer. The record is titled Lock and Key and is due out July 27, 2010 via Bridge Nine. It is the follow-up to Prying Eyes which was released in 2008. It was recorded last month in Wakefield, MA with producer Jay Maas (Verse, Bane, Defeater)
Vocalist Chris Linkovich said this:

Lock & Key is definitely not a 'Prying Eyes Part 2'. It's not just a progression either, we feel like this is our defining release. We weren't scared to bring all of our influences to the table, no matter what the genre of music. We spent a lot more time with guitar sounds, a lot of layering and melody and other second guitar work. As far as lyrics, I reached my goal of working with a lot of different subject matters and also using a little bit of melody with different vocal patterns and delivery. The record is ill and we listen to it every day.
The band will head to Europe this summer to support the release.