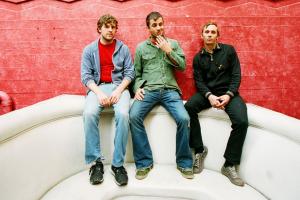 Chicago's The Lawrence Arms have announced a May 19 show at The Subterranean in their hometown. All proceeds from the gig will benefit two women who were recently victims of a late night assault while walking home. One of the women remains in a coma, while the other is severely injured. Bassist/vocalist Brendan Kelly commented on his blog:
"As someone who's stumbled home from my share of bars at 330 in the morning, I feel a deep connection to this plight. I've been speaking with my co-conspirators and we all feel terrible. SO, here's what we're gonna do: Me and my friend Chris and my friend Neil (both fellow stumbling-home-in-Chicago enthusiasts) are going to get together one night and play some songs that we've written for anyone who wants to pay to come see us do it. We'll be calling ourselves the Lawrence Arms, we'll be performing at the Subterranean on Wednesday the 19th of May. The show will be 17+ and every single dime of the money will go to these girls to help them with their bills and their rehab and…fuck, honestly, I don't even care what they do with the money. If they need some hot fudge sundaes, fine. Go for it, get the biggest fucking hot fudge sundaes you can get. It's the least we can do as a city, right? Of course it is."
More details are available here.