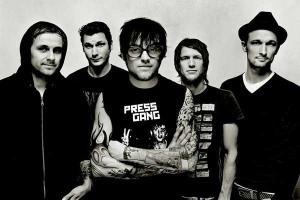 Germany's long-running punk rock act Donots have been tapped to support Green Day on their upcoming three shows in Germany. The band will open the shows which will also feature Joan Jett and the Blackhearts and Rise Against and had this to say:

What gives? We are super stoked that Green Day have invited us to be their support on all 3 upcoming shows in Germany! We got confirmed for Hannover, Munich and Mainz the other day and are more than grateful for the opportunity to open up for a band that has been an inspiration for us especially in our early days. We used to work at a youth club in our hometown Ibbenbüren back in the 90s where Green Day played a post-Kerplunk show. Barely more than 140 people attended that very intimate show. The Donots were completely blown away by the energy, the songs and the attitude. It's safe to say that night had a huge impact on our sound and songwriting. 16 years later we get to play stadiums with Green Day and once again we are absolutely thrilled!
The band will release The Long Way Home in Japan this year and are currently looking for international labels. Their previous release was 2008's Coma Chameleon.