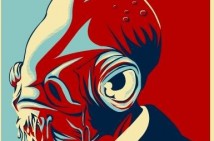 Captain, We're Sinking have two new, free releases available for download today. First, a live EP titled Live At Fest 8. The EP includes tracks from a performance at a warehouse show the night before The Fest in Gainesville, FL. Bassist Zack Charett explains:

We set out from Philly and headed straight through to Florida. It was us along with Bill's brother Vinny, Joe Rogers and Shawn. Lots of cigs, tall boys of Arizona and bags of chips. Later we roll up to to meet with our boys American Armada, it's like 2 in the am. All of us were looking like some zonked weirdos from being trapped in a van for an indefinite amount of hours, when Cory Aramda says "You guys wanna play?" And we did. It was pretty rad and it is what it is. I had no idea it was being recorded and probaly would have begged them not to if i had, but fuck! It's not to shabby for some sleep deprived fools!
The band has also posted a free download of their new 7-inch, It's A Trap also available on vinyl through Kind Of Like Records. Grab that here and the live album via this link.