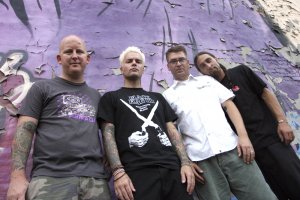 Good Riddance have announced that they will be releasing a new compilation of singles and rarities. The record is titled Capricorn One and is due out July 6, 2010 via Fat Wreck Chords. The album will include all those singles released between their full lengths as well as six previously unreleased tracks and other rarities. All the songs on the album have been digitally remastered by Jason Livermore of Blasting Room (Rise Against, Descendents, NOFX) fame.
It will also feature a track by track commentary written by singer Russ Rankin:

Throughout the history of Good Riddance there have been numerous songs which, for whatever reason, we weren't able to include on our primary releases. Many of these tunes were frequently played live and most of them are still some of our own personal favorites. Now that we are finished we felt it would be cool for our fans to be able to check out these hidden or obscurely released snapshots of our band during the apex of it's existence. We hope they bring back fond memories for our fans and that, even if just for a moment, they can be transported back to a different time and place.
Good Riddance split up in 2007 after more than two decades together.