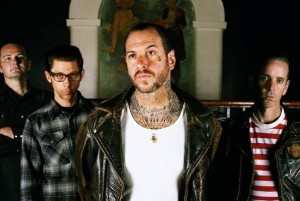 Social Distortion have updated their Twitter with this news: "The album is tracked… finishing up writing and getting ready to head back into the studio to record vocals."
The band, who recently signed to Epitaph Records, will release their new album in the fall. The record will be the band's first of all new material since 2004's Sex, Love and Rock 'n' Roll. It will also be their first release with a new lineup consisting of Mike Ness (vocals, guitar), Jonny "2 Bags" Wickersham (guitar) and Brent Harding (bass). There has been no confirmation whether drummer Atom Willard (who left last March) or his replacement Scott Reeder has been involved in the recording.
In addition to a new album, Social Distortion will tour the U.S. this summer with Dan Sartain and The Action Design. The tour kicks off July 27 in Poughkeepsie, NY and makes seven stops in the Northeast before the band heads to Chicago for an August 7 main stage performance at this year's Lollapalooza. Dates with Dan Sartain and The Action Design resume in Green Bay, Wisconsin on August 8. Check out those dates here.