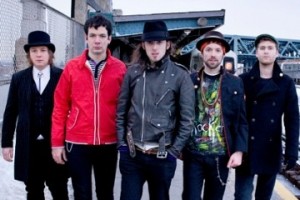 A report form Sarah Ventre in the Phoenix New Times details a confrontatation that broke out between Brooklyn's Outernational and a Phoenix, AZ crowd at a show last week. The activist punk band was opening for veteran UK punks GBH and just followed locals Casket Life and Glass Heroes on stage. Outernational vocalist Miles Solay repeatedly provoked the crowd by likening the state's controverial immigration law SB 1070 to apartheid-era South Africa and Nazi Germany. After repeated jabs the crowed turned on the band. Ventre writes:

I've been to a lot of shows, both as a music lover, and as a music critic. Never have I seen something like this go down. When Outernational began talking about our asinine law, and how they were inclined to boycott but instead decided to come with their socially conscious, human-rights-concerned music, I was thrilled. This is what I love most about punk. It represents those on the fringes of society, and recognizes the importance of political awareness and activism coupled with an understanding that those who are marginalized are bound together. It is everyone's struggle. I've said before that it is this that made punk a powerful movement, beyond just angsty teens. It gives youth an outlet to direct their anger and justified frustrations with the world, while highlighting the importance in standing up for your beliefs and becoming part of a larger struggle and movement.

The near riot that resulted (a physical fight almost did break out) was one of the most shocking displays that I've ever seen. I realize that no one can speak for the actions of others, but it was honestly the most ashamed I've ever been to be an Arizonan….
You can read the rest at the Phoenix New Times.