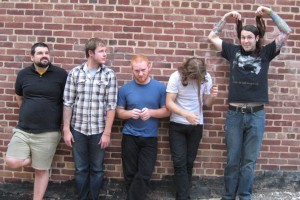 Ruiner have announced October 5 and 9 as dates for the band's final shows. Killing the Dream will be joining them on the October 9 gig in Baltimore, MD. Other details are still being worked out, but we'll keep you posted.
The band, who announced their breakup last month, will say a long goodbye to each other in the form of a month-long European tour alongside Carpathian, as well as a set at This is Hardcore in Philadelphia on August 15.
Ruiner last released Hell Is Empty in 2009.
| DATE | CITY | VENUE |
| --- | --- | --- |
| 7.16.10 | Germany Stuttgart | Juha West |
| 7.17.10 | Belgium Herk de Stad | Rock Herk |
| 7.18.10 | Austria Rohr Bei Hartberg | Burning Season Fest |
| 7.19.10 | Hungary Budapest | Dürer Kert |
| 7.20.10 | Bulgaria Sofia | The Box |
| 7.21.10 | Romania Craiova | Korona |
| 7.22.10 | Slovakia Kosice | Collosseum-Upstairs |
| 7.23.10 | Czech Republic Rockycany | Fluff Fest |
| 7.24.10 | Germany Köln | Positive Records Birthday @ Essigfabrik |
| 7.25.10 | UK Southampton | Joiners |
| 7.26.10 | UK Bristol | The Croft |
| 7.27.10 | UK Leeds | The Well |
| 7.28.10 | UK Exeter | Cavern |
| 7.29.10 | UK London | Purple Turtle |
| 7.30.10 | Germany Marburg | KFZ |
| 7.31.10 | Belgium Mol | JH Tydeeh |
| 8.1.10 | Netherlands Amsterdam | Winston |
| 8.2.10 | Germany Karlsruhe | Die Stadtmitte |
| 8.3.10 | France Marseille | Obundies |
| 8.4.10 | Italy Bologna | Lazeretto |
| 8.5.10 | Germany Leisnig | Sucks'n'Summer |
| 8.6.10 | Denmark Fredericia | Fredericia Hardcore Festival |
| 8.7.10 | Germany Hannover | (The Rise 2010) @ Musiktheater Bad |
| 8.9.10 | Germany Münster | Sputnikhalle |
| 8.10.10 | Sweden Gothenburg | Fängelset |
| 8.11.10 | Germany Hamburg | Hafenklang |
| 8.12.10 | Germany Berlin | Cassiopeia |
| 8.13.10 | Germany Neustadt an der Orla | Exil |
| 8.14.10 | Belgium Ieper | Iperfest |
| 8.15.10 | Philadelphia, PA | This Is Hardcore |