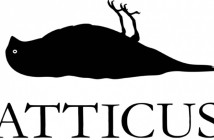 Atticus Clothing, the clothing line founded by Mark Hoppus and Tom Delonge of Blink 182, have announced the fifth compilation in their series. The company resumed the compilation series in 2009 after taking several years off from 2005-2009. The new two disc compilation will feature music from 3 Inches of Blood, Before Their Eyes, Caliban, Cobra Skulls, Death Before Dishonor, Defeater, Fake Problems, Flogging Molly, Lucero, No Bragging Rights, Polar Bear Club, Set Your Goals, Sparks the Rescue, Strike Anywhere, The Bled, The Ocean, The Swellers, This Providence and Your Demise.
Disc 1:
The Swellers: "Sleeper"
Fake Problems: "Don't Worry Baby"
Cobra Skulls: "Problems With Perceptions"
Polar Bear Club: "Living Saints"
Lucero: "The Devil and Maggie Chascarillo"
The Lawrence Arms-The Slowest Drink at the Saddest Bar on the Snowiest Day in the Greatest City"
Strike Anywhere: "I'm Your Opposite Number"
Set Your Goals: "Gaia Bleeds (Make Way For Man)"
AM Taxi: "The Mistake"
Mark Rose: "Everything"
Poema: "2AM"
Let's Get It: "Do Not Disturb"
I See Stars: "The Big Bad Wolf"
This Providence: "Selfish"
Delux-To Live and Die in TJ"
Farewell-Rock On The Radio"
Before Their Eyes: "Finding A Way"
Sparks The Rescue: "We Love Like Vampires"
Trees Above Mandalay: "I Can't Find my Heart and She's a Steeler"
The Word Alive: "Battle Royale"
Disc 2:
Suicide Silence: "Lifted"
Veil of Maya-Unbreakable"
The Ocean: "Swallowed By The Earth"
The Bled: "Smoke Breaks"
We Came As Romans: "Broken Statues"
Caliban: "24 years"
Bison BC: "Two Day Booze"
3 Inches of Blood: "Battles and Brotherhood"
Winds of Plague: "Creed of Tyrants"
Oh' Sleeper: "Son of The Morning"
Asking Alexandria: "Nobody Don't Dance No More"
Of Mice & Men: "Second and Sebring"
No Bragging Rights: "Unafraid to Burn"
Stray From The Path: "Negative and Violent"
Your Demise: "Burnt Tongues"
Death Before Dishonor: "Better Ways to Die"
Thy Will Be Done: "And Fire Will Fall"
Oceano: "District of Misery"
Defeater: "The Red, White and Blues"
Flogging Molly: "The Seven Deadly Sins (Live at The Greek Theatre)"