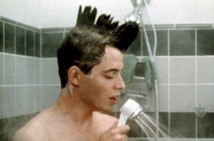 Hooky, a short-lived project from Matt Canino and Erica Freas of Rvivr, Latterman and Shorebirds, have posted a free download of their 2007 demo. The band performed only five shows in their short time together and recorded the six song demo. The band is asking for donations for those who download the record and add:

Hooky was a short, beautful, fucked up band from summer 2007 to spring 2008. We rocked hard, we stopped hard. Download our demo, or listen to it here, many of you have asked for this over the years and we're finally making it available. Donations will go to the debt and then if that gets all paid up and we have cash left over, maybe we can do a 7". Or order a pizza. It all depends on YOU!
Check it out here.
RVIVR released their LP this year to a great reception and can be downloaded at Rumbletowne as well.