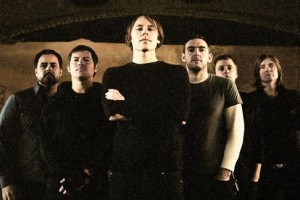 Thursday has entered the studio to begin recording their sixth full length and second for Epitaph Records. The band will spend the next few months recording at Tarbox Road Studios in Fredonia, NY with Common Existence and A City by the Light Divided producer Dave Fridmann (MGMT, The Flaming Lips, Mogwai) and plan to release the new album in spring 2011.
Frontman Geoff Rickly commented:

We've worked with Dave Fridmann before, but this is definitely the most we've ever clicked with him. In style, this record feels like a radical departure from our earlier records but in substance it feels like a return. The songs are more vulnerable than they've been in a long time. Some of the song titles include "A Darker Forest" and "Little Sparks Against the Sun"… It's very atmospheric and mood oriented so far.
Since the release of Common Existence in 2009, the band toured with Dillinger Escape Plan, Converge, Bring Me The Horizon, Touche Amore, La Dispute, Young Widows, The Dear Hunter and Fake Problems. Rickly also contributed to his side project, the retro-screamo outfit, United Nations.