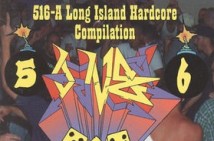 The erratically scheduled Day 2 review of Long Island Fest 2010, which took place early last month, is now up for your perusal.
Day 3 is forthcoming.
Days 2 and 3 of Long Island Fest 2010 took place at the Ethical Humanist Society of Garden City--a really wonderful and spacious venue that can house quite a number of kids while managing to convey an intimate feel thanks to a low stage. It's pretty perfect for some of the bigger hardcore/punk tours, or perhaps something of this variety. All through the day there was no a re-entry policy but it was exercised with courteous leniency; standard barbecue fare was served in the backyard with drinks at pretty reasonable prices, too. Since the lineup was now about 20 bands, I'll try to keep it brief for each.
This particular day was practically Connecticut day--there were at least five bands from CT playing, and as such, it looked like that state's entire punk/hardcore scene had come down for the show. Or at least a pretty sizable slice of it.
One of those bands, My Heart to Joy, was just about to kick into their set on the stage-less side of the venue when I arrived. It didn't come as a shock to me as I'd seen them just the other day, but it's interesting to note the band's major lineup overhaul--it looks like there's at least one or two new members, and vocalist/guitarist Ryan has shifted to a sole vocal position. He's also kind of doing the Morrissey thing with the mic stand, but it's cool. Perhaps this had an influence on their songwriting, as the two new songs they played from their upcoming Paper + Plastick debut are significantly different. Ryan sings in a much cleaner, melodic tone and the songs have sort of a driving, cutesy pop tone about them, but it's not at all bad--they still have the noodly guitars, and a newer fast tempo. Of course, the emotional buildups are what garnered this band a fanbase, and that much was obvious when frenzied pile-ons occurred for the catchy climaxes of "All of Life Is Coming Home" and closer "Giving My Hands Away."

Set list (5:32-5:51):
new song
-----
Seasons in Verse
All of Life Is Coming Home
-----
new song
-----
Empty Homes (?)
-----
Giving My Hands Away
Wolverine and Tomahawk Chop followed on the big and lack-thereof stages, respectively. The former is a local, heavy, kinda tough-type hardcore act that some of the kids seem to dig. They have a trace of Holy Terror influence and a hilarious array of guest vocalists, but the former needs to be explored more and the latter eased up on for them to become anything worthwhile. The latter, also local, I watched a little bit of--they're a promising pop-punk act with a very "local" sound (think a musically tight but stylistically sloppy mix of Agent, Movielife and Polar Bear Club without any of the "it" factors that make those bands so great), but the promise is definitely there. They had a big, big reaction though.
Back on the stage, Make Do and Mend blasted through a six-song set that had a huge reception complete with some mosh. They played nearly all of their excellent Bodies of Water EP, as well as a new song--and it wasn't the deliciously Caution-esque "Hand Me Downs" that was previously on their MySpace page. It's the other song from their upcoming split 7" with Touche Amore which, dog willing, will be out soon; it was a more methodical, slower burner that added a much-needed, mid-set reflection.

Set list (6:34-6:57):
Shambles
Winter Wasteland
-----
No Words
-----
new song
-----
Our Own Ebb and Flow
-----
TL
Hostage Calm's Lens was a real solid melodic hardcore album with some slightly progressive tendencies and relatively unique influences (Rain, Turning Point) that resonated with me pretty well. Of course, the talk around their new one is how much better and more experimental it is in every regard, and it's all true (hear for yourself!). Of the four new songs they're playing live so far, "Ballots/Stones" is recreated the best, with a Calypso dance vibe that will make any hardcore crowd just feel plain ol' awkward and white as snow. But it's awesome nonetheless, and the injections of energy brought by elder songs "One Face" and "400,000" got fingers pointing and the crowd moving anyhow. And what they're doing with set closer "Jerry Rumspringer" is kinda funny, since they play through the introduction of Lens closer "Pushing the Paradigm" only for Chris Martin to serenade the reflective opening lyric to the other song ("I wanna know where all the summers go").

Set list (7:02-7:20):
Affidavit
400,000
-----
Ballots/Stones
-----
One Face
-----
Overstayed
-----
"Pushing the Paradigm" intro into "Jerry Rumspringer"
Product of Waste played a super pissed, powerviolence-esque set of hardcore with plenty of shoutouts to their more melodic New England brethren playing the show with them. From far away it looked like they have been aging scene veterans, but up close I noticed the singer must have been in his early 20s at the oldest. It tripped me up, but it showed to be just another case of a new hardcore band showing how aware it is of its long-grounded roots, something that isn't so apparent in other scenes. Also, that dude did not like cops; he basically told anyone in the room training to be an officer to go rightly fuck themselves. Bad experience?

Ambitions was never a band I was too into on record (Question was OK; Stranger, eh). But they always brought it live, playing their standout, energetic songs, so it was cool to get to see them do this reunion set for the LI crowd. In fact, since it was their first show around these parts since their breakup and subsequent reformation of sorts (they're recording a new EP and contributing to a Chain of Strength tribute), it may have been their first show here since an October 2007 gig at the Crazy Donkey with I Am the Avalanche and Set Your Goals. This set made it feel like they never went away--they got a solid reaction for their melodic hardcore stylings and it was well deserved, as the band played tight and professional as all get out while keeping in tune with crowd involvement and mic sharing.

Set list (7:58-8:26):
Uphill Battle
Question
-----
Overstep
Sinking
Playing Dead
-----
The Illusion
old song
-----
Redemptive Soul
-----
Neon Lights
The Carrier singer Anthony dropped down to the floor to better serve the pile-ons and enthused sing-alongs that ensued when the band began to plow through a 26-minute set of their heavy but dynamic metallic hardcore. There seemed to be a little more action here than most other sets, but it was really just another step in an increasingly responsive crowd that grew with every passing set. I think they played "Hello Uncertainty" among a few other crowd favorites.

Tigers Jaw's set was like one big tease, an all-too-short taste of the band's sprightly, humming indie-punk, including one new song from their upcoming third full-length. They were very, very well-received--crowd-surfing, pile-ons, big sing-alongs…the whole nine. I was really hoping they'd play "Spirit Desire," but with such a truncated set time, they apologized for its absence and then launched into the chugging, shoulder-shrugging optimism-gone-emotional strain of set closer "The Sun."

Set list (9:26-9:50):
Plane vs. Tank vs. Submarine
I Saw Water
-----
I Was Never Your Boyfriend
-----
Dent
-----
new song
-----
The Sun
Incendiary got an appropriately responsive reaction for the band's hometown set of intelligently heavy, '90s-style hardcore. A scant 22 minutes, it definitely preached quality over quantity: They played the standouts from across their three releases, a new song from their upcoming split with Suburban Scum and threw in a crunchy cover of Snapcase's "Caboose" for good measure, saluting one of their prime influences.

Set list (10:05-10:27):
Choosing Sides
God's Country (new song)
-----
Dissension
Ad Pondus Omnium
-----
Caboose (Snapcase cover)
Anesthesia
-----
Sinking
Cruel Hand followed with 32 minutes of a slightly meaner, slightly elder NYHC-inspired onslaught, cutting quickly across songs like "Above and Below" and a new song or few from their forthcoming Lock & Key. The floor had now opened up from a sliver of mosh participants for Incendiary up front to a space that stretched to the border of the back room. It was an official hardcore dance party by this point, but it would let up for the more melodic followup.

With Honor played a much-anticipated reunion set here that offered a little bit of something for everyone. But the last time I'd saw the band was a January 2008 reunion show, and the set was actually pretty heavy on 2004's Heart Means Everything. This time they played the lion's share of its more melodic hardcore-oriented followup, 2005's This is Our Revenge. I was especially happy to hear two from their best release, though (you know: '05's split EP with the Distance. Like friends and member-sharers Ambitions, it sounded like they never really left. Todd Mackey looked a little bit older and grizzled, and most-to-all of the guys have definitely become family men in the interim years, but it didn't soften their approach, offering measured aggression and stoic, practiced energy to end Day 2 of the fest. (There was even a marriage proposal before the band's last song; she said yes.)

Set list (11:44-12:17):
Like Trumpets
All Hope Aside
Small Dreams
-----
More Than Heroes
Gun for Hire
Plot Two
-----
You Always Said
Long Story Short
Elevens
-----
To Believe
-----
Bridges and Gaps
Photos by Katie Chirichillo or Rebecca Sawka, as respectively noted.