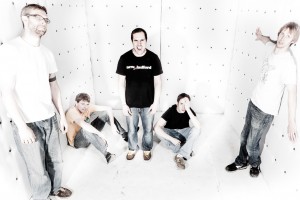 A Wilhelm Scream guitarist Trevor Reilly has updated the band's website with news that they plan on hitting the studio next month to begin work on a new full-length, shortly before they head to the midwest, then Canada for shows with Comeback Kid and Madball. Here's a snippet of the post:
"Actually, Nick and I have already starting frustrating each other, er, I mean, jamming together and it's just like old times, eh Nick? See writing songs with Nick consists of us both glaring at each other, me telling him his cymbals are too loud, and us taking lots of coffee breaks. That's all I remember from our sessions, and somehow we write alot of songs together this way. I don't understand it either, but it works. We start recording in August, and I'm thrilled. I love making full length albums more than anything and I am psyched to see where we go with this new material."
No other details are readily available, but once out the new LP will be the band's first since 2007's Career Suicide, though they released a self-titled EP last year. Speaking of said EP, its vinyl release is finally upon us, and the new pressing features three bonus songs from the band's Reilly-fronted alter ego The Guys Downstairs. Check it out here, and click below to watch a video of The Guys Downstairs performing a song entitled "Chipping Away."