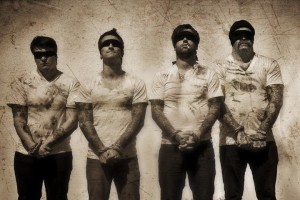 Buffalo-based hardcore outfit Every Time I Die have announced a new weekly episodic series entitled Sh*t Happens: The Series?. This latest endeavor into international debauchery finds the boys again teamed up with Space Monkey Studios to bring you the finest in "unapologetic tomfoolery." The first full episode will air on July 28.
The press release explained the concept:

Over the next 12 weeks, Every Time I Die will unveil episodes that are packed to the gills with impromptu footage showcasing the band's signature brand of humor that has made them infamous amongst their fans and peers alike. This is by no means a scripted reality show containing foreseeable plot twists and over-dramatic story arches. Nor is this your typical live band DVD that focuses on the tedium of tracking a record or the self-congratulatory tales of what inspired their lyrics. Instead, "The Series?" focuses on what it is exactly that drives 5 individuals from similar backgrounds to forfeit family and friends and take to the road year after year for the sake of their craft. Whether you're a fan of music or simply an admirer of the nomadic spirit that resides in all of us, "Sh*t Happens: The Series?" will make you feel at home.
Check out the "theme song" and first trailer here.