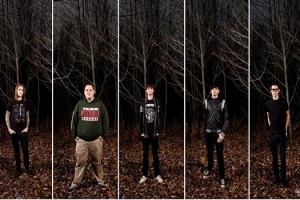 Energy have hit the studio to begin work on their new EP for Bridge Nine Records. The melodic hardcore band is planning a departure from the sound of their last full length, Invasions of the Mind in 2008.
Vocalist Jason Tankerley said this:

These songs are a step in a whole new direction, one that Mike and I have been messing around with for quite some time now. He and I have a side project called 'Children Of The Night' that has been really creating a pretty unique sound. We started doing that about 6 years ago, before Energy was a band. Mike recently joined Energy and we've been creating a lot of music with the COTN feel to it ever since. We feel as if with every album so far we've been reinventing the band's sound and this EP will be no exception. With a lot of bands that release albums, you know what the whole thing is going to sound like within the first song or 2. One of our many goals is to have each song really stand out in it's own way. We don't want a batch of songs that all sound uniform, we want a wide array of melody and feeling that will keep listeners (and us) interested
To that end, the band is promising "catchy choruses, melodic vocals and keyboards" one what they are calling the Walk Into The Fire EP.