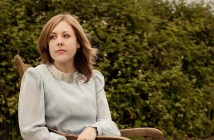 Corin Tucker Band, the eponymous new project from former Sleater-Kinney frontwoman Corin Tucker, will be releasing 1,000 Years. Due out October 5, 2010, the album is the first post-Sleater-Kinney output from the singer and promises a quieter sound built with "acoustic guitars, keyboards, interlocking percussion, even cellos and violins," The band also features Unwound's Sara Lund and the Golden Bears' Seth Lorinczi.
In an interview earlier this year, Corin talked a bit about the record:

It's definitely more of a middle-aged mom record, in a way. It's not a record that a young person would write. But I am the worst person in the world to describe my own lyrics, so I'm not even going to try! I do think I'm trying to write stories, though, and that I take certain feelings or certain experiences and put them into a little story. And there are definitely some ghosts on the record, too--ghost songs. There's some sadness, some reinvention, some rebirth. I think the goal for me is to write some good stories.
Sleater-Kinney called it quits after released the critically acclaimed The Woods in 2005.