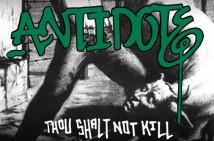 Bridge Nine Records will be reissuing the long-out-of-print 7-inch EP from early 1980's hardcore outfit Antidote. The disc was first released in 1983 and limited to 1000 copies. Since then, the record has been a favorite of bootleggers and sells for many times it's sticker price on eBay. Antidote guitarist Robb Nunzio said this:

Seeing an original copy of the 7 inch going for hundreds of dollars on Ebay really put things into perspective – kids should be able to afford and enjoy that fantastic record.
Bridge Nine will be releasing the album on 7-inch, CD and digital formats on August 24, 2010. Bridge Nine boss Chris Wren commented on the significance of the record:

Thou Shalt Not Kill is one of the most important hardcore records of all time. The songs on that record are timeless and I knew that I wanted to expose a whole new generation of fans to Antidote, but still do the re-release justice so the old fans would be excited as well.
To that end, the packaging will be kept original with updated liner notes from Robb Nunzio. ntidote will be playing some upcoming shows in support of the Thou Shalt Not Kill re-release including a special show in Boston as part of the "Gallery East Reunion Show" on Aug. 29th. DYS, Jerry's Kids, FU's and Gang Green will also be playing as well as Soul Control, Refuse Resist and The Revilers.