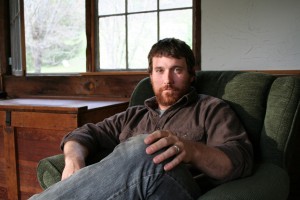 In a new interview, Chuck Ragan of Hot Water Music spoke with Punk CD Sampler and discussed his solo work as well as his work with Hot Water Music. Chuck mentions that he has numerous split 7-inches including a collaboration with Brian Fallon of The Gaslight Anthem. He explained:

Lately I've been writing a lot and working on writing a record with Brian Fallon from The Gaslight Anthem. We don't have anything planned as far as when we're gonna record it, it's just something that we want to do. We're just trading songs and taking it easy and letting it make itself over time.

We've been trading songs since last October. We're moving on it slowly, but it's kind of at a stand-still right now with, ya know, Gaslight's in full swing after releasing their new record. So we're excited about it, but we're both moving strong and fast in our own directions. It's something that we want to do, and will do, it's just a matter of time and when and where. We talked about it early next year, of getting together and laying stuff down and seeing where it goes. But there's no expectations and we're just kinda having fun with it right now. So we're just looking to keep it relaxed and make a great record.
You can listen to the entire interview here.