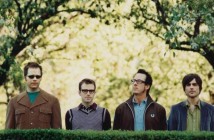 According to a new interview, changes are afoot for Weezer. First, the band has announced that they will be releasing their next full length on September 13, 2010. The as-yet untitled album will follow the band's album Raditude from 2009. The other significant news is that the band has wrapped up their contract with longtime label Geffen and are "getting ready to sign with a yet-to-be-named independent label."
The band signed to major label Geffen in the 90s, releasing their debut, Weezer through the label in 1994. Cuomo also talked a bit about how the band sees itself these days:

I don't feel like we've really transcended our original niche. We're always going to be the weirdos. I've spent the entire morning trying to come up with a name for the record. How does `Heavy Mental' sound? There's definitely going to be more raw rock energy on this one.
Check out the interview here.