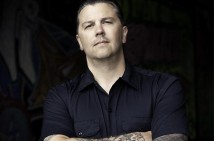 Hellcat Records have announced some more details about Devil's Brigade, the project fronted by Matt Freeman of Rancid and Operation Ivy. As reported earlier, the band will release their debut on August 31, 2010. Matt explained how the record came together:

The original concept for this record was going to be a musical. Tim had been kicking around an idea of doing a musical about the building of the Golden Gate Bridge. He had the title "Half Way To Hell Club." This was based on the name for the bridge workers who fell off the bridge while it was being built and fell into the safety net that was between them and the ocean. We grew up in the East Bay looking at that bridge and it has always been a part of our lives. Six of those songs ended up on the Devils Brigade record. The other songs were all original Devils Brigade songs from the first demo. We thought they were still good and we should record them again.

It was a great vibe in the studio. The record has a real live and loose vibe. Loose in a good way. Tim's guitar style blended really well with DJ and everything clicked very quickly. We had a lot of fun making this record. I am going to take it out on the road whenever I can when Rancid is not doing anything.
The band has also announced the track listing and it notes that Rancid bandmate Tim Armstrong provides guest vocals on two tracks, while Lars Frederiksen lends his hand to one track. The band was made up of Matt, Tim and drummer DJ Bonebrake from the influential punk group X.
I'm Movin Through
My Own Man Now
Shakedown
Bridge Of Gold(featuring Tim Armstrong and Lars Frederiksen)
Darlene
Ride Harley
Who's Gonna Save You Now
Desperate Times
Vampire Girl
Gentleman Of the Road(featuring Tim Armstrong)
Protest Song
Half Way To Hell