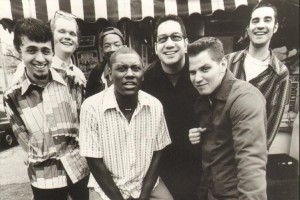 Spring Heeled Jack have released two of their previous out-of-print albums digitally through Paper and Plastick. The label has made available 1998's Songs From Suburbia and 1995's Static World. Paper and Plastick's Vinnie Fiorello commented:

Back in the 90's, Spring Heeled Jack was doing ska-punk right… mixing soul, punk, ska, and reggae together. I always thought they were ahead of the curve. As a fan, I wanted the albums to be available to other fans that may want to buy high quality MP3's. From a label perspective, the fact that I can provide a release for these albums that have been out-of-print for so long is fantastic.
After being dormant for nearly a decade, the band played two reunion shows earlier this year in their hometown of New Haven, CT. The band recorded and filmed both nights, and will be releasing a live digital album later this year with two new songs through Paper + Plastick. Details regarding the video footage will be announced shortly.