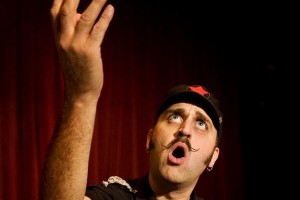 A musical mercenary armed with an accordion, Franz Nicolay has made a name for himself supplying old world oom-pah and soul to emerging modern rock bands. Although he just joined Against Me! as a touring member, he did several tours of duty in The Hold Steady, and until recently, was one of the more distinctive members of the already pretty darn distinctive World/Inferno Friendship Society. In addition to slanging his accordion and piano skills to some raucous rock bands, Franz recently released his first solo LP Major General, handles the keys in his Eastern European influenced band Guignol and is a member of Anti-Social Music which is avant-garde even among the avant-garde. In order to at least try to keep the record straight, punknews interviewer John Gentile recently sat down with Franz to hear what hanging out with Against Me! is like, what's next on his plate, and why he keeps jumping from band to band to band to band.
How's your first tour with Against Me! going?
It's awesome. It's been really, really fun. It's low stress for me. I've been a big fan for years, so I already knew the songs. They're not asking a lot from me, my responsibility is limited. It was perfect timing because I just finished my new solo record and didn't really have any plans.
How did the Against Me! collaboration come about?
Well, it's not really a collaboration. I'm a hired gun… How did I know the guys… When the first Against Me! album is Reinventing Axl Rose came out, people couldn't stop talking about it. I listened to it every day for a year. I wrote them a fan letter fan via No Idea records. That was the First fan letter I had written in a long time. After that, I played a couple shows with them, and we were both at the "Skate and Surf Fest," where my band at that time,