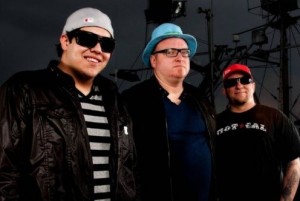 In a new post on their official website, Rome of Sublime With Rome revealed the band's plans to record this October and release a new single. Rome said this:

We gotta handful of sick new tunes and plan to hit the studio [in October] to do pre-production and release a single.
The band debuted a new song, "Panic," when performing live on Jimmy Kimmel. Check that out here.
The band features the founding Sublime rhythm section of drummer Bud Gaugh and bassist Eric Wilson with new singer-guitarist Rome Ramirez. They assumed the slightly modified name after settling a lawsuit with the family of deceased founding member and singer Bradley Nowell over its use. This years tours will be Gaugh and Wilson's first tour under the name Sublime ("With Rome" or otherwise) in nearly 14 years. They are on the road now.