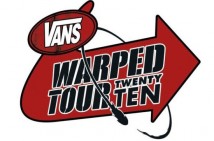 Since news of a fan's death at the Bonner Springs, KS stop of Vans Warped Tour broke yesterday, a few more details have emerged. While the cause of the man's death is still not known, the tour has released a statement:
"As the Vans Warped Tour awaits a complete report from the Bonner Springs law enforcement and medical examiner on the passing of a concertgoer at yesterday's (August 2) show in Bonner Springs, KS, the tour would like to offer their thoughts and prayers to the young man's family and friends. Tour organizers are working closely with Capitol Federal Park @ Sandstone staff and local officials to determine the actual facts surrounding this tragic incident and will make further details known as they become available."
The venue in Bonner Springs, the Sandstone Amphitheater, has identified the man as Curtis Alan DeForest, 26 and of Wichita, KS. They offered a statement of their own:
"Curtis Alan DeForest, age 26 of Wichita, Kansas, a patron attending yesterday's Van's Warped Tour at the amphitheater was transported to Providence Medical Center where he later passed away. An investigation by the Bonner Springs Police Department and the Wyandotte County District Attorney's Office is ongoing. The cause of death has yet to be determined and the venue is working closely with authorities to aid in their investigation.
As is the standard practice at all shows that visit the Amphitheater, patrons were allowed to bring in their own bottles of water. Once inside, the permanent water refill locations that are throughout the venue were in operation for all patrons to access throughout the day. In preparation for the heat, additional measures were taken by the venue including the positioning of misting stations for fans, additional water refill stations as well as shade throughout the wooded venue.
Our thoughts and prayers go out to the family of Mr. DeForest."
We'll keep you updated as more details surface.