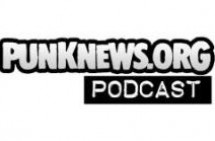 It's time for everyone's favorite Wednesday night leisurely activity: the surely-by-now world-renowned Punknews podcast! This week on the show, interviews editor Rich Verducci plopped into the moderator's chair where he, news editor Adam White and I discussed such popular stories as the mysterious Sound and Fury motorcyclist, Fat's decision to reissue Banner Pilot's Resignation Day and the larger question of the viability of reissues in general, Rancid's Lars Fredriksen lending his name to and taking appointments at a Tokyo tattoo parlour, speculation on the sonic direction and label affiliation of Brendan Kelly's solo album, and the many questions raised by Oh, Sleeper guitarist Shane Blay's article laying out the income and expenses of touring for a 'mid-level band.'
In addition to the roundtable, we've also got brand spankin' new music this week from VRGNS (née Virgins) and The Estranged, as well as a head-to-head review of new releases from La Otracina and La Gritona from copy editor Jesse Raub.
You can click Read More to stream and/or download the show, or subscribe via RSS or iTunes. Don't forget to give us your feedback in the comments section or via e-mail.