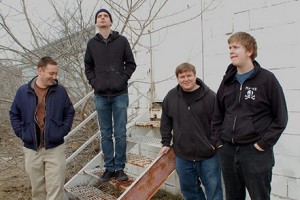 Minneapolis, MN's Banner Pilot have begun work on their third full-length and will be posting updates to their tumblr throughout the process. Here's a snippet from the first update:
"Starting to make decent progress on things. Right now, here is where we are at: I have about 40 song ideas on my computer. The vast majority of these are garbage; stitched together chord progressions and random guitar noodling that tries, unsuccessfully, to hit on a good vocal melody idea. But! About 8 or 9 of them seem potentially good enough to end up as keeper songs. Of these, we've tackled 4 or 5 as a full band, recording demo versions at the practice space. Just in the last week, we've recorded two of them. 'Spanish Reds' and 'Sleep it Off'. I think these two tunes will both end up on the album. Sometimes you can tell. On the last album, there were songs that immediately felt like keepers, and others (like a song we named "Blue Ribbon" because… well, take a guess at what might have been in the room when we wrote the song) are more like "I think this might be OK? I mean, maybe?", which is a sign they'll get scrapped later. These two, though, seem to fall in the former camp. Good sign!"
The band last released Collapser in 2009, and a re-imagining of their 2008 debut full-length Resignation Day is due out on September 14, 2010. The band will be appearing at Best Friends Day later this month as well as The Fest 9 over Halloween weekend.