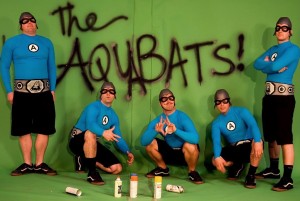 It looks like The Aquabats have gotten their superhero garb back from the dry cleaners and are gearing up to record a new album. A recent post to the band's twitter account confirmed as much:
"just finished the 1st production meeting for the new album, I can't wait to get into the studio and record this album - mcbc"
"mcbc," of course, stands for MC Bat Commander (née Christian Jacobs), the band's frontman. More details are expected soon; the Aquabats last released Charge!! way back in 2005 via Nitro Records. In the interim, the group has been involved with the popular children's show Yo Gabba Gabba!, co-created by Jacobs, as well as a pilot dubbed The Aquabats Super Show! that's been in production since 2008.