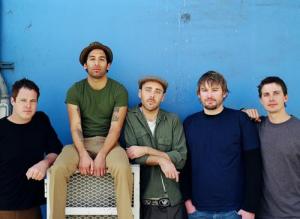 For fifteen years the Mad Caddies have been combining genres with their ska roots to bring music to people all across the world. They've accomplished a lot, most notably becoming a hit internet meme on Punknews. The band recently released Consensual Selections. A collection of their best songs as voted on by the fans. Interviewer Alex Eschbach sat down with the Caddies guitarist and founding member Sascha Lazor to discuss their newest record, future plans and what it's like to be in a band for fifteen years.
How's everything going right now?
Good. I'm just trying to find a place where there's not house music isn't playing. [Laughs] I'm in a lobby in a hotel in San Francisco. Everything's great. Just played a show last night.
How did the show go?
It was great. I haven't played San Francisco for a while actually. You know, a lot of people we know up here because of Fat Wreck Chords. So we had a good party and the show was really great.
Where you pleased with how Consensual Selections turned out?
Yeah. Awhile ago Fat Mike said, when we were recording our new record or starting to do some recording for it, it would be a good idea [to compile a "singles" album]. I guess I hadn't really thought of it at the time. At first I was actually opposed to it. I thought it was just repacking a bunch of songs that had already been released. But there's a point when you have so many records that it's kind of good to have them all condensed. All the newer songs, the fan favorites all on one CD. Especially for new fans, you know? "Which CD should I buy?" Just get this one. It's got most of the songs that we play live and it's the best representation of our band. Especially a band like us that kind of plays a lot of different genres.
Were their songs that almost made the cut or ones that you wanted personally that didn't appear on the album?
Actually, not really. It was pretty smooth. The way we decided was number one the fans. We had them vote. We already had a pretty basic idea of what it was going to be. The fans, the band, and (Fat) Mike were the three different groups that voted and all the were pretty similar.
I really enjoyed the liner notes for the album. All the little anecdotes behind each song were pretty entertaining.
Yeah, I'm glad we did that. That was a last minute change. We've got to have more content on this album. [Laughs]
Did you guys intentionally release your greatest hits album the same day Reel Big Fish released their greatest hits album?
*pauses* Oh shit are you serious? I had no idea. I had no idea. [Laughs] No, it was not intentional. [Laughs]
How's the record coming along?
It is coming. It's actually been a pretty damn slow process. To be pretty blunt. We started in January, in San Francisco, and we recorded a bunch of songs then let them marinate for a bit and realized we didn't like most of them. [Laughs] So we went back to San Francisco and recorded a more. We were much more happy with the second batch. But we're still not finished. Since our first record we've never done one record all in one studio. So this one is going to be no different. We have about six or seven tracks. We did most of the tracking in San Francisco. Down in L.A. I have a studio and our drummer has a studio. We'll be doing overdub on vocals, horns and guitar things there.
Is there a tentative release date for the album?
No. Hopefully we'll have it out by Spring. Which is probably the way it's going to be going. We have a bit of touring coming up. And touring always sets things back as far as recording. You've gotta prepare for the tour, then you've got tour, then you've gotta recover from the tour. We're doing Europe, two different European tours and a Japanese tour in the next upcoming couple months. It's okay, we're constantly writing more songs. But, yeah, springtime for sure. Definitely to be safe.
When you guys go into the studio do you intentionally go in saying, "Okay, we'll do a few ska songs, a slower reggae track, a polka song and a dixieland tune?"
Yeah, for sure. On the last record, a lot of it was just how the song fit stylistically. I mean you can't have too many slow ones or too many fast ones. A goal for the record in general is to make it more cohesive as a record. I think that always comes up since we have different styles in our music. But in general we're trying to make this a little over the place.
I believe your last full North American tour was with The Johnstones. I thought this was a pretty odd pairing considering The Johnstones exclusively sing about drinking, partying, and getting with as many girls as possible while you guys tend to have some deeper, more laid back songs.
It was a cool tour. Those guys are actually really funny. To be totally honesty in the beginning, after the first couple days I was like, "Man, a couple of weeks with these guys might get annoying." [Laughs] They were actually all really nice and really cool people. It's kind of funny, in some ways it made me feel a bit older. They're kind of doing what we did ten years ago. It was interesting to see that.
You guys have been a band for fifteen years. That's a long time. I mean you guys were the first non-local ska act I ever saw back at the 2003 Warped Tour. What's changed the most form when you guys first started?
Honestly, we've grown as people. Our experience has definitely shaped us being able to travel around and live the kind of lifestyle that we've lead. You see the world a lot differently now. Musically we've been exposed to a lot different things that we never would have before. We're obviously getting older, things that were important to us back then, especially lyrically you know our songs we try to make a bit deeper.
So songs a little bit less like "Preppie Girl."
Yeah, for sure. Obviously that was in high school. That's the cool thing about this band. A lot of bands go through this, you start it when you're kids. You've got those fans who love "Preppie Girl." It's cool to do but it's like you're constantly reliving high school. You know? Which is cool. We're happy. We like to play, people pay money to see a show, it's kind of selfish not to take that into account. It is a bit interesting, I mean we were so young, especially songs like "Preppie Girl" that predate by a couple years our first record almost. It definitely is a bit strange. I can imagine for me it's one thing but I can imagine for Chuck, our singer, it's got to be more interesting. I've got it easy compared to him.
What bands would you still like to tour with?
There's tons of band. Most of the band it would probably be impossible. Most of the bands and most of artists I enjoy are not anywhere near the music that we play. So it would probably be impossible. [Laughs] We actually partied with the singer from The Aggrolites a couple nights ago. We play a show in Europe with Against Me!, The Aggrolites, and us. I'm not to familiar with The Aggrolites stuff. I'm excited to play with them. I'm assuming if we get along that show in Europe should be a really good time.
After being in a band for so long and doing so much, what else would you like to accomplish as a group?
My main objective, which isn't a very lofty objective, but it's always been on mind. We've done Columbia, Ecuador, the Northern part of South America but we've never done Argentina and Brazil. In general, that is really high on my list. When the new record comes out I'd really like to go to Argentina and Brazil. It's been in the works two different times. Both times something happened, once Argentina went to shit. [Laughs] I can't remember what it was, both times it's been postponed. But that's my immeidate goal, other than finishing the record. It's funny that we've been to other spots that bands have never been too. Other than that just try and make a better album than the last one.
Well, I think that's about it. Is there anything else you'd like to add?
No. Just thank you for taking the time to do the interview. Just look for our new album, hopefully sometime around March or February.