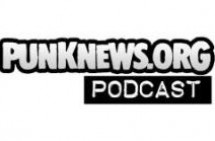 Another week, another exciting edition of the Punknews podcast! For this super-sized episode, I was joined by news editor Adam White, managing editor Ben Conoley and copy editor Jesse Raub for a raucous roundtable discussion that included our thoughts on the unfortunate death of a man at the Warped Tour in Kansas City, the Descendents' upcoming trip to Australia, Weezer signing to Epitaph and Yellowcard to Hopeless, as well as the madness and uncertainty behind Sum 41's Deryck Whibley being attacked in a bar in Japan.
Not only that, but on this week's show we're premiering brand new music from Restorations, Bars of Gold and City of Ships. That's right, if you've heard any of these songs before, you're either in the band or you know someone who knows someone. THAT'S how new they are!
You can click Read More to stream and/or download the show, or subscribe via RSS or iTunes. Don't forget to give us your feedback in the comments section or via e-mail.