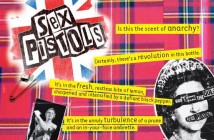 Exclaim is reporting that the legendary Sex Pistols have launched their own official band fragrance. Released by Etat Libre D'Orange, the scent promises "a revolution [in] a bottle" and:

Fresh, restless bite of lemon, sharpened and intensified by deiant black pepper. It's the unruly turbulence of a prune and an in-your-face ambrette. Electrified by aldehydes, you can feel the pure energy pared down and pumped up by leather, shot through with heliotrope and brought back down to earth by a raunchy patchouli.
Check out more details via the perfume company's blog.